Tweet
Follow @PSUCollegeComm
August 4, 2014
Communications students cover football media day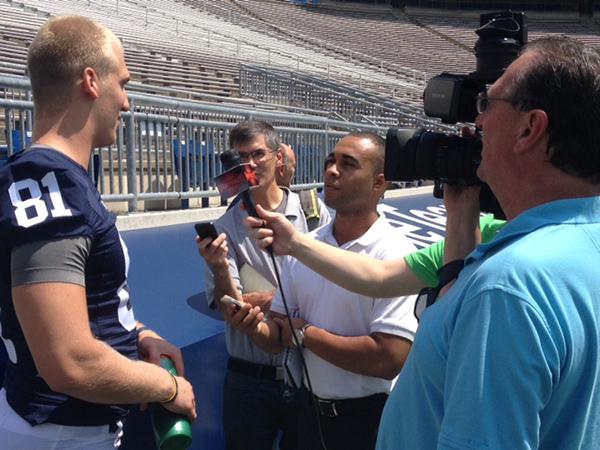 By Mike Esse ('15)
Monday marked the beginning of the 2014 Penn State football season, a chance for James Franklin and his staff get a look at their first Nittany Lion football squad. It was also a chance for the Nittany Lion coaches and players to interact with the media during media day at Beaver Stadium.
Among the nearly 160-member media contingent were numerous College of Communications students.
Ranging from interns at local television stations, reporters for local radio stations and beat writers for newspapers in the area, as well as members of student media, the students were busy in a variety of roles. Some came from out of town like senior Jake Somerville, who is a beat writer for the Carlisle Sentinel.
Others, including fellow seniors John McGonigal and Phil Constantino, who are reporters for the Philadelphia Daily News and State College's ESPN Radio 1450, respectively, have called State College home this summer and visited Beaver Stadium for the late summer spectacle that was media day 2014.
ALSO AT MEDIA DAY: Alumni bring plan, face changes
The session served as a chance for students to get more real-world experience interacting with players in coaches in group news conferences and one-on-one interviews. With a majority of the returning football players and Nittany Lions coaches swarming the Beaver Stadium turf, students had angles and interviews in mind for their work for their respective media outlets.
However, as they have learned in classes at Penn State, it doesn't always go according to plan.
"You have to have a plan going in knowing who you are going to interview since there are so many players and coaches on hand," said Greg Pickel, a senior journalism majoring covering the team for Fight On State. "You must know who you want to talk to and why, and be able to adjust to waiting for particular players or coaches and also know that your plan can and probably will change on the fly."
Pickel has covered the team for two seasons and has been through a Penn State media day before. He and learns more and more during each experience. On Monday, Pickel set out to interview recruiting coordinators Josh Gattis and Terry Smith about their work on the 2015 class, which was a success.
Pickel also wanted to find out more information regarding the punting battle, but that one was a little harder because one of the competitors, Daniel Pasquariell, is a freshman and was unavailable at media day.
Eric Shultz, also a senior journalism major, echoed Pickel's sentiments. He had a strategy for the day, which was slightly interrupted for a variety of reasons, but his experience in Penn State classes -- specifically the sports writing course offered through the John Curley Center for Sports Journalism -- prepared him for such moments.
Shultz, a beat writer for The Daily Collegian and a stringer for the Reading Eagle, has used his experiences at the Collegian and through the college to prepare him for a full season on the football beat.
"Penn State has prepped me for an event like this," Shultz said. "Classes like the sports writing course offered here have shown me what type of work is needed to put in as well as preparation. Being able to take a three-credit course working with the Centre Daily Times has added to my knowledge of sports reporting and allowed me to learn more."
While media day may have been a rapid and fast paced event, so will the 12-game season ahead for all students in the College of Communications reporting, commentating, photographing and everything regarding James Franklin's Nittany Lions.