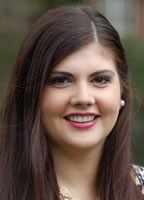 Student-PHD
Giuliana Sorce
Education
PhD: Penn State University
Master's: Purdue University
Bachelor's: Johannes Gutenberg University Mainz
Details
Biography
Dr. Giuliana Sorce was raised in a German/Italian home in the southwest of Germany. Traveling is her favorite activity and she loves to let new cultural experiences infuse her research.
A graduate of the Johannes Gutenberg University, Sorce worked as a translator/interpreter, putting her language skills to work—next to English, German, and Italian, Sorce also speaks Spanish, Portuguese, French, and Swedish. During her Master's program at Purdue University (Fort Wayne), Sorce was named both the Outstanding Graduate Teaching Assistant and Outstanding Graduate Student.
Sorce's research centers global media systems, media ethics, and media diversity. Her dissertation project entitled Watching out for media: An institutional ethnographic perspective on the feminist democratic media activism of "Media Monitoring Africa" focuses on the media activism of the NGO Media Monitoring Africa and its impact on the South African mediascape.
An award-winning scholar, Sorce is the recipient of over ten reserach grants and scholarships and has published internationally. Sorce is an avid believer in academic service, is a member of various academic organizations, and presents her scholarship at competitively-selected conventions multiple times per year. At Penn State, Sorce teaches coursework in international communication, comparative media systems, and gender & diversity in the media.
Contact
Giuliana Sorce
205 James Building
University Park, PA 16802
gus176@psu.edu