Internship Program
Our students intern with newspapers, advertising agencies, public relations offices, magazines and TV and radio stations and networks. They complete more than 650 for-credit internships each year. And students are encouraged to complete multiple internships in order to find the right experience or fit as they pursue a career.Learn more.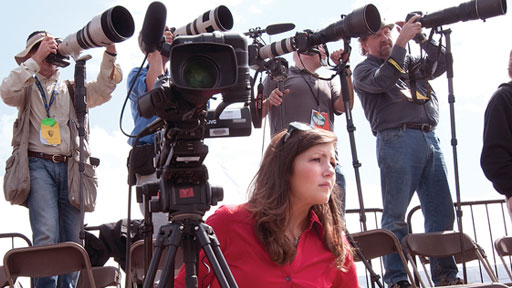 Internship FAQs
How easy is it to get internships?
More than 600 communications students complete internships every year, and they have done so at literally thousands of sites across a variety of different disciplines. Students are encouraged to complete internships and can get abundant support from the Office of Internships and Career Services.
How many internships do you suggest a student have?
Students are encouraged to complete multiple internships, because they provide real-world experience and allow students to sample a variety of different positions and working environments — enabling them to know both what they like and do not like about a specific career path.
Is completing an internship required in order to graduate?
Internships are highly recommended — employers value hands-on, real-life experience — but not required.
Are internships paid?
Each internship location has its own policies about compensation. In general, those close to the TV/media industry are unpaid, simply because they are so popular with many students competing for coveted spots. Some other internships are paid positions.
Other Opportunities
Want more than internships? Expand your horizons even more and spend a semester in Washington D.C. or abroad.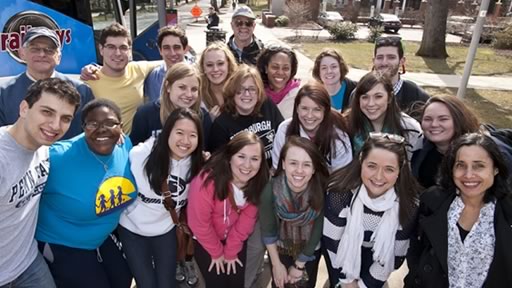 Through "embedded" courses or more than 160 study abroad programs, students may gain exposure to different situations that help them open their minds, and possibly change their lives. Such experiences prepare students for the global professional environment of the 21st century.
Are there scholarships to help me study abroad?
Two specific scholarship funds exist to support students who study abroad.
When can I study abroad?
Numerous options exist, and students can select from English-speaking or non-English-speaking locations.
What are embedded courses?
Students complement a semester of work with a focused week of study and hands-on work in a foreign country.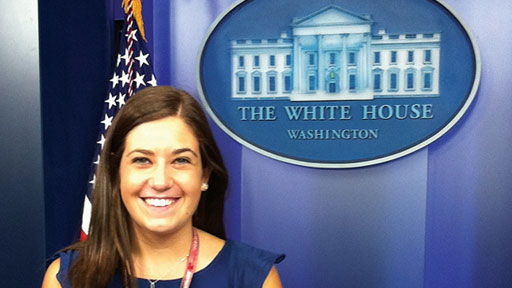 Tap into the resources of our nation's capital city.
Washington, D.C., is a city that offers a wide variety of academic, professional and cultural opportunities for undergraduates. From Capitol Hill to CNN and the Smithsonian, students have the chance to gain valuable on-the-job experience and work with professionals in their fields.
What is the Washington Program?
Students typically spend a semester in the nation's capital completing an internship and taking classes.
When can I complete the program?
Juniors and seniors are eligible for the Communications and Democracy Semester, available only in the fall. Students may complete internships in Washington, D.C., at any time.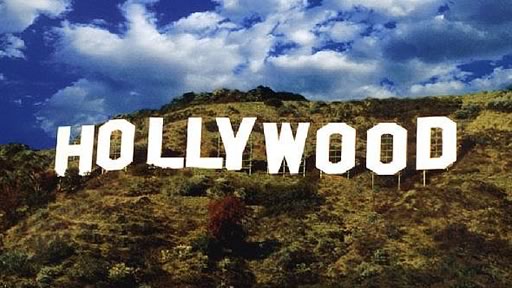 Gain valuable experience in the entertainment industry!
Los Angeles serves as the creative hub for movie and television production as well as news, public relations and much more. Offered for the first time in 2016, the Hollywood Program coincides with the spring semester at Penn State.
What is the Hollywood Program?
Spend a semester in Los Angeles completing an internship and taking courses on entertainment industry topics on site.
When can I complete the program?
Juniors and seniors enrolled in any College of Communications major are eligible. The program will be offered for the first time beginning January 2016.
Potential Internships & Employeers
If you read on a college message board that you must attend a city school because of the internship opportunities, don't believe it. Our dedicated internship staff has built relationships with thousands of companies all across the country.
Your internship (and future career) opportunities are limitless.
Alumni
Our alumni return to campus often, visit classes, and regularly host events and students at their places of business. Our mentoring program, special events, and resources make networking a part of the educational process and help lead students to success.
Eric Blume

Vice President, Comedy Central

1990 Film-Video

Jayne Jamison

Publisher, Seventeen Magazine

1978 Advertising

Ben Feller

Managing Director, Mercury Public Affairs // Former AP White House Correspondent

1992 Journalism

Lisa Salters

Reporter, ESPN/ABC

1988 Broadcast Journalism

Sara Ganim

Pulitzer Prize-winner, Correspondent, CNN

2008 Journalism

Donald Bellisario

TV Creator, Producer NCIS, JAG, Quantum Leap

1961 Journalism

Ellyn Fisher

VP of PR and Social Media, The Ad Council

1999 Journalism

Chris Krewson

Editor, THR.com

1998 Journalism

Paul Levine

Novelist and TV writer

1969 Journalism

Rich Russo

Director, NFL on Fox

1984 Speech Communications

Mike Signora

VP Football Communications, NFL

1996 Journalism

Rodnell Workman

VP Strategic Partnerships, Madison Square Garden

1995 Broadcast-Cable

Linda Yaccarino

President, Cable Entertainment & Digital Ad Sales, NBC Universal

1985 Telecommunications