Tweet
Follow @PSUCollegeComm
October 21, 2014
Bronstein Lecture visitors focus on mixing politics, social media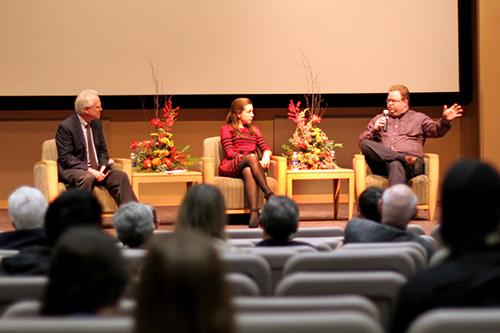 By Joel Wee
Erik Arneson, communications and policy director for Pennsylvania Sen. Dominic Pileggi and Brittany Foster, an associate at Triad Strategies, shared their wisdom about the benefits and pitfalls of mixing politics and social media during the Ben Bronstein Lecture in Ethics and Public Relations on Tuesday.
Foster opened the session by sharing how the Internet age has changed since its nascence and how much more interactive it has become. She also explained how news sharing and journalism has evolved as a result of the new age of the Internet.
Traditionally, she said, news went through filters; journalists and editors would create a story and decide how much, what and who appeared or did not appear in the stories. The market view was controlled. With the new age of the Internet came unfiltered content and easy access, she said.
The new Internet also allowed politicians to come in contact directly with their constituents. However, she said that with this newfound freedom and ease of access came problems. "Let's start with Anthony Weiner," she said. "This was a case of a politician who used Twitter like it was Tinder."
Foster also cautioned how this heavy flow of information could become stifling and limiting. She warned about following skewed and self-promoting news organizations, public figures and celebrities. "By doing that, you wouldn't be getting the full breadth of information you need as you would from traditional media," said Foster.
Foster concluded her presentation by saying social media is indispensable for legislators, advocates and public relations professionals but simply using social media posts to connect with the public was not enough. She said communications through social media must well executed and must have a well-planned process as they would in traditional media. Foster manages nine Twitter accounts, including her own, for her clients at Triad Strategies.
Arneson continued the discussion by presenting preventive measures and solutions to the problems highlighted by Foster.
He presented statistics that reflected more than 50 percent of members in the state senate use social media. However, Arneson said the numbers were an estimate and that in actuality, more than 50 percent of the members of the senate use social media. That number, he said, is also growing as politicians are trying reach out to a younger audience to engage in politics and to vote.
With the growing number of politicians taking to social media, the state has enacted some ethical guidelines and rules regarding the use of social media.
One such rule is that absolutely no state resources may be used for legislators' social media accounts and election campaigns. Staff and legislators also may not use senate work time to campaign on their social media accounts. They may do so on their own time.
According to Arneson, these ethical rules and guidelines are equivalent to a law. "At least that's what lawyers tell me," said Arneson. Additionally, one important unwritten rule, he said, is to avoid having a social media post appearing on Political Fails, a blog by Pennsylvania Sen. Mike Schlossberg. The blog documents embarrassing and controversial social media posts by politicians.
"If you are going to be a campaign staffer, a legislative staffer, you want to be a politician or anything political in general, rule No. 1, read that blog and do not do anything that would get you on that," said Arneson.
After his presentation, Arneson shared additional examples of political disasters on social media. He also highlighted the problem with staff and interns accidently using their legislators' Twitter accounts to make personal tweets.
Foster said even though she manages nine Twitter accounts including her own, she tries not to tweet out of a mobile device and uses separate devices if necessary. "If you manage a lot of Twitter accounts, please don't ever do it from your phone. Mistakes will be made. Don't sync it with any apps so you won't be accidently tweeting your mobile game scores," said Foster.
Deleting tweets is no longer an option, said Arneson, as the website Politwoops manages to capture all deleted tweets from politicians all over the world. So while embarrassing and controversial tweets would no longer live on Twitter if deleted, they could be found on Politwoops, he said.
The duo concluded the presentation by stating that social media will continue to shape the political landscape. While there are guidelines and rules in place, social media will also remain a sticky topic to maneuver ethically and politically. "We're still figuring out the new web and social media and how to interact but it's going to be an interesting environment for the years to come," said Foster.