Tweet
Follow @PSUCollegeComm
June 2, 2014
College sweeps AP's Pennsylvania student broadcast contest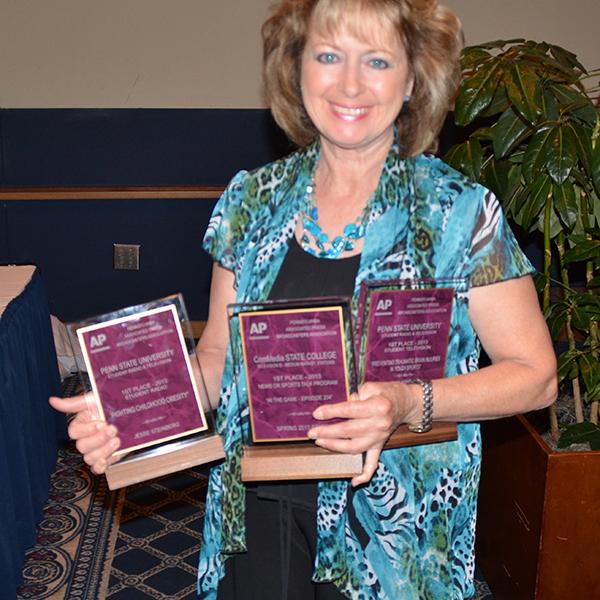 Students from the College of Communications swept the student divison in radio and television, and fared well against media professionals in a separate division during an annual contest sponsored by the Pennsylvania Associated Press Broadcast Assocation.
In the professional division, students earned three-top three finishes -- including first place for this episode of "In the Game."
The contest accepts entries from across the state, with non-student work separated by market size. All Penn State entries in the student radio and television division came from COMM 466 Public Affairs Television Reporting and final projects completed in COMM 360 Radio Reporting.
Work from the student-produced news program "Centre Country Report" and the sports magazine show produced by students, "In the Game," was entered in the medium-market television division.
Penn State place winners in student divisions and in medium-market divisions, were:
STUDENT RADIO & TELEVISION
Radio
First: Jesse Steinberg, "Fighting Childhood Obesity"
Second: Thomas Simmons, "Gays in Scouting"
Third: Sarah Brojak, "Future of Solar Energy"
Television
First: Sam Ashton, Will Jenkins, Ryan Blaschak, Sean McDermott and Sean Cauley, "Preventing Traumatic Brain Injuries in Youth Sports"
Second: Priscilla Balseca, Joyann Jeffrey and Tashima Mitchell, "Researchers Link Pesticides to a Global Honey Bee Crisis"
Third: Tashima Mitchell, Tejah Larkin and J.D. Intrieri, "Distracted Drivers Prompt Public Safety Debates"
MEDIUM MARKET RADIO & TV
TV Sports Feature
Third: Patrick Woo, "Healing Newtown, ComMedia
TV Sports Photography
Third: Willie Jungels, ""Chambers Fires Back After Loss to Pitt," Centre County Report
TV News or Sports Talk Program
First: "In the Game" (Episode 204), ComMedia LINK