Tweet
Follow @PSUCollegeComm
February 16, 2016
Faculty member's presentation part of University-wide effort
A faculty member from the College of Communications will join colleagues from academic and research units across campus when they present their work during a special symposium on the University Park campus.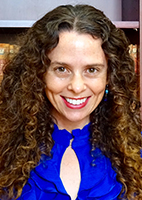 Yael Warshel, a University-wide Rock Ethics Institute co-funded assistant professor of journalism and telecommunications, will present "Becoming Moroccan and/or Saharawi? Children's Co-Constructions of Citizenship" during the overall event titled PSU Research in Africa: Building Synergy Within the Community."
The two-hour conference -- beginning at 3 p.m. Monday, Feb. 22, in the Millennium Science Complex Cafe Commons -- features President Eric Barron as the guest of honor with campus-wide research in Africa as the focus. Researchers will give a one-to-two-slide PowerPoint presentation describing their research with the goal to bring researchers together for future opportunities and increased collaboration, with additional activities planned after the symposium.
The symposium will be followed by a reception at the Schreyer House hosted by President Barron to promote continued discussion and networking.
Warshel works at the intersection between international media, child, and conflict analysis, practice and policy specializing in what she has coined as, "peace communication." She is fluent in and/or has studied five languages and conducted fieldwork in the Middle East, North and Sub-Saharan Africa, the Balkans and Latin America.
An award-winning scholar, she is the recipient of three top dissertation awards, including one in peace studies and two in global and international communication, which she received from the International and National Communication associations.