Tweet
Follow @PSUCollegeComm
December 12, 2014
PHOTOS: Student captures Essence of Joy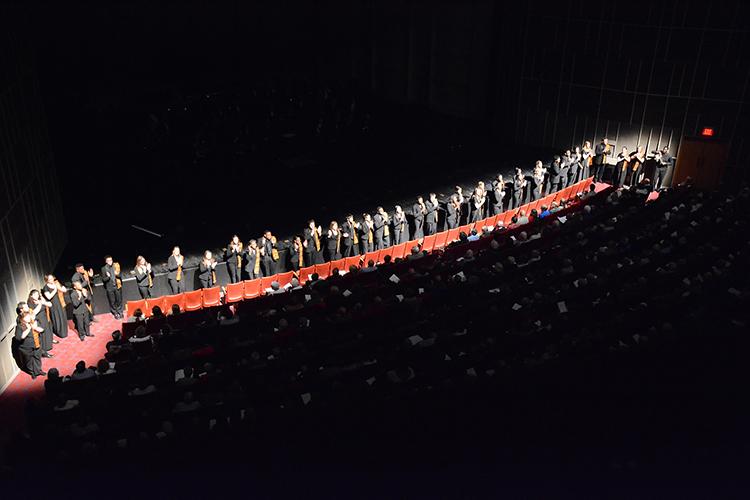 Introductory photojournalism student Alexandra Zortman focused on Essence of Joy, a choral ensemble in Penn State's School of Music, for a class assignment at the end of the semester.
Essence of Joy, which will performs African/African American sacred and secular music, will present the "Our Gift of Giving" concert at 7 p.m., Friday, Dec. 12, at the Penn Stater Conference Center Hotel. Tickets for the event cost $25 for adults and $5 for Penn State students and children. More info: http://music.psu.edu/performance/essence-joy-winterfest-14-our-gift-song
Involving undergraduate and graduate students from all academic programs at Penn State, Essence of Joy has performed throughout Pennsylvania, New Jersey, New York, Maryland, Virginia, Washington, D.C., Georgia, Minnesota, Iowa, Indiana, North Carolina, Mississippi, Tennessee, Ohio and Illinois.
The choir has been invited to perform for conferences of the Pennsylvania Music Educators Association (1995, 1997, 2003), the eastern division of the Music Educators National Conference (1997), the eastern division of the American Choral Directors Association (2002, 2006, 2014), the national American Choral Directors Association (1999, 2003, 2005, 2011), and the National Association for the Advancement of Colored People (2000). In addition, they have presented concerts at the Schomburg Museum of Black American Culture in New York City (1998, 1999, 2001).
The choir has released four compact discs: "The Soul and Spirit of Essence" (1998), "Essence 'Live'" (2000), "Lift Every Voice and Sing", and "The Light" (2003). The choir made its first European tour in 2001 with concert performances in Poland and the Czech Republic. Recent tours have taken Essence of Joy members to South Africa, Taiwan, Korea, Spain, and France.