Tweet
Follow @PSUCollegeComm
September 19, 2013
Popular Donor Dinner enables benefactors, students to meet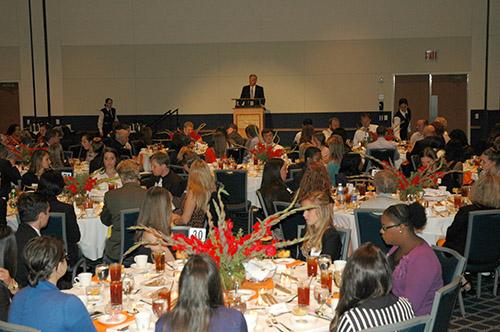 Some 360 people -- a mix of alumni, donors, faculty, staff and students -- gathered at the Penn Stater Conference Center Hotel on Sept. 18 for the annual Donor and Scholarship Recognition Dinner coordinated by the College of Communications.
Alumni and donors who support every aspect of the communications program were able to meet with faculty and students at the event that featured a keynote address from Penn State alumnus Donald Bellisario ('60), the creative force behind TV series such as "Quantum Leap," "Magnum P.I.," "JAG" and "NCIS." Bellisario also endowed the Donald P. Bellisario Trustee Scholarship in the College of Communications.
Bellisario said he was happy to be able to support Penn State and its students. He said he was also happy to have harnessed social media in order to prepare for his presentation, especially because television was the social media that shaped his childhood and college-age years. Bellisario shared the story of his initial attendance at Penn State, followed by his service in the Marines and then a return to campus as an older student with a family.
When he was stuck and needed a loan from the University to complete his education and take care of his family, he borrowed $600 ... and then never paid it back. At least until he made the $1 million gift that endowed his Trustee Scholarship -- a fund that supported 47 students during the 2012-13 academic year.
Alumnus Annie Richards ('12), a TV anchor in Fort Meyers, Fla., spoke on behalf of previous scholarship recipients, expressing her continued graduated for such support while encouraging students to consider giving when whey can later in their lives.
Dean Doug Anderson recognized all donors at the event and Associate Dean Marie Hardin did the same with scholarship recipients in attendance.