Tweet
Follow @PSUCollegeComm
February 8, 2013
Students share top Super Bowl memories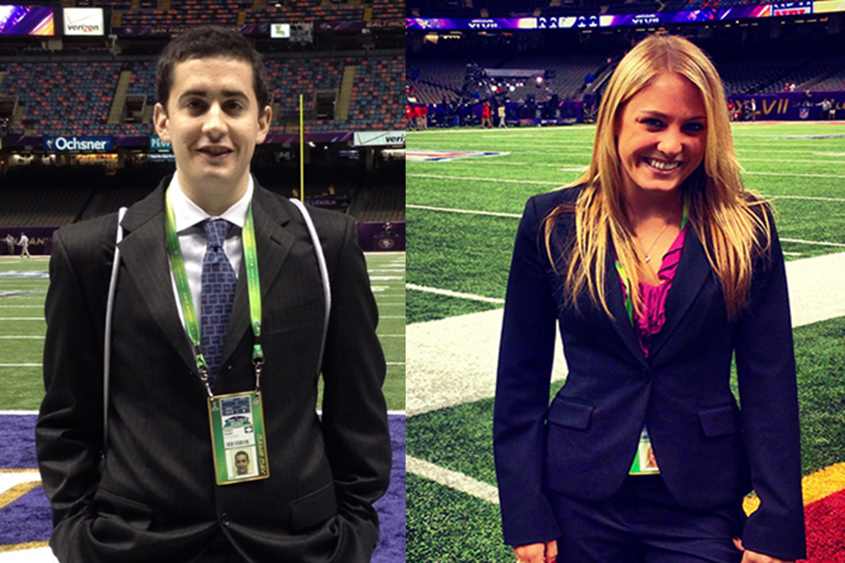 After a 10-day trip to the Super Bowl, working as media relations volunteers for the NFL, two Penn State students came home with many memories and valuable experience.
Here, from the home office in New Orleans, is a combined list of the 10 things they will always remember fom their trip by Rob Roselli, a senior from Marlton, N.J., and Melissa Schiller, a senior from Blue Bell, Pa.
New Orleans treats you well (Rob)
From fried catfish, to po-boy sandwiches, to the famous beignets, to more fried catfish ... New Orleans treats you well when it comes to food. We had the chance to try most of the famous local fare. The open cup policy on Bourbon street makes for one big house party. It's quite the scene.
Being a part of the PR team at the NFL Honors award show (Melissa)
I was able to escort Russell Wilson, Kurt Warner and Stevie Johnson down the red carpet and through the press. During the awards show I was able to escort the players who received awards from backstage to the podium where press could ask questions
Media relations becomes media relationships (Rob)
I had the chance to meet a lot of writers and reporters I've followed throughout the year. Some were local guys I've followed since I was 10, and others were national writers and broadcasters: John Clayton, Michelle Beadle and Sal Paolantonio, among others.
Continuing to build upon my community relations work with the NFL (Melissa)
I helped out with the logistics and execution of the NFL Play 60 Kids' Day event and the Walter Payton Man of the Year press conference featuring Joe Thomas, Jason Witten and Larry Fitzgerald
Quoting the quotable (Rob)
I had the privilege of working with Courtney Upshaw, Haloti Ngata and Ed Reed throughout the week. It was my job to record their interviews and then transcribe for distribution to the media. All three were great guys and very quotable, which makes for nice stories.
Soaking in the New Orleans culture (Melissa)
I was able to enjoy beignets at the famous Cafe Du Monde and listen to live music at Lafitte's Blacksmith, the oldest bar in the USA.
Marlton takes New Orleans (Rob)
It was neat having quite the Marlton, N.J., (my hometown) contingent in New Orleans. The Ravens kicking coach is the mayor of Marlton. His son, a friend of mine, is on the training staff. Paul Domowitch is a Philadelphia Daily News writer from Marlton who I was able to get to know. Also, Ron Jaworski and Mike Quick were in town ... both Marlton guys.
Experiencing player and coaches media availability with the San Francisco 49ers (Melissa)
I recorded and transcribed Alex Smith during media availability and was able to watch Coach Jim Harbaugh answer questions from the media.
Ed Reed's postgame jubilation (Rob)
My postgame job was to follow Ed Reed as he ecstatically congratulated teammates, embraced family and thanked fans. Any time he spoke to media, I had to record it for transcription later. Being a part of a Super Bowl celebration, with confetti on my suit and non-stop camera flashes is an experience I 1) hope to never forget and 2) plan to have again.
The moment the canons full of confetti went off after the game (Melissa)
What an incredible experience.