Tweet
Follow @ThePageCenter
Call for proposals: Legacy scholar grants to focus on digital media
October 4, 2016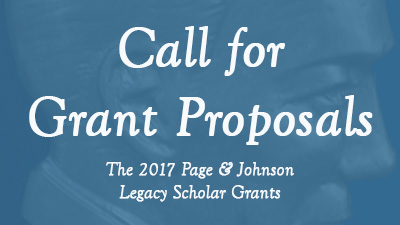 The 2017 Page and Johnson Legacy Scholar grants will focus on the ever-changing area of digital media and new technologies in public relations. With its call for proposals, the Page Center will award grants that support scholars making important contributions to knowledge, practice or public understanding of ethics and responsibility in public communication.
Digital media has become a powerful force for organization-stakeholder engagement. In this current era of social networks, digital technology enables new communication opportunities and challenges between organizations and stakeholders. Because of this technology's rapid advancement, we still have much to understand about how it affects communications—and how it will impact the future of public relations. With on-going support, researchers can provide organizations with the strategies that will help them use digital media effectively and responsibly.
This year, the Page Center's call for proposals seeks to fill the gaps in literature in digital media. Preference will be given to studies that have an emphasis on practical implications.

Topics could include, but are not limited to:
Engagement with specific audiences through digital media (e.g., activists, communities, employees, influencers, volunteers, international groups, LGBTQ, etc.)
Strategic use and measurement of digital media
Impact, benefits or challenges of digital media such as social media, wearables, gamification, apps, IoT, location, augmented reality, etc.
The deadline for proposal submissions is March 15, 2017 using the Proposal Submission Form. Please visit the Page Center website for proposal guidelines.
Questions can be directed to Marcia W. DiStaso at 814-863-9874.
Since its 2004 founding, the Page Center has become an international leader in research on ethics and integrity in public communication. Over the past 12 years, the Center has funded more than 200 scholars and awarded more than $700,000 in research funding. Visit the Page Center website for more information about the Center and its many initiatives.
Ready to apply for a Legacy Scholar Grant?