Tweet
Follow @ThePageCenter
Jill Gabbe's remarks about Plank Center 'Legacy Award' winner Bill Nielsen
November 1, 2017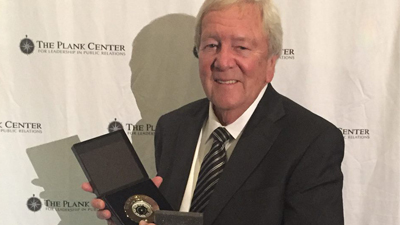 Below is the speech Jill Gabbe shared about Bill Nielsen, Page Center advisory board chair and former head of communications at Johnson & Johnson, at the Plank Center for Leadership in Public Relations' eighth annual "Milestones in Mentoring" event on Oct. 26, 2017 in Chicago.
Gabbe, a senior advisor at Finn Partners, recognized Nielsen's distinguished career as he was honored with the Plank Center's "Legacy Award." According to Plank's website, the award "recognizes those who have touched the lives of countless public relations professionals over the course of their exceptional careers."
(Watch Gabbe's speech, as well as Bill's acceptance speech, here.)
---
Gabbe's Remarks
It's my great honor to share in this tribute to Bill Nielsen and all of tonight's distinguished recipients.
I've known Bill—his wife, Doris, and youngest daughter Jordan—for nearly 35 years. OMG! First as a colleague at Carl Byoir, then as a client of my own firm when he was at Johnson & Johnson, and for many years now as a friend.
I'm also so pleased that my husband—and partner—Jim, could be here. He, too, puts Bill atop the category of Most Esteemed Friend, Colleague and Coach.
Many of you know Bill well; you may have benefited from his support and knack for connecting people; been guided by his insight;
Been touched by his kindness and compassion; or been inspired by his boundless optimism, enthusiasm and smarts.
And if you have, you also know this to be true. In his humility, he is impossible to thank. I am not alone in this experience.
When Bill asked me to introduce him, his second words were "Now, look, this shouldn't be about me…"
But, Bill, that sly way you have deflecting attention back on someone else isn't going to get you off the hook. I am going to toot your horn.
Bill has influenced so many lives over the years—mine for sure. There's no handy mentor tip list that applies to him.
He just does "Mentoring by Bill"–and it doesn't get better than that. He is a case study if there ever was one of the hallmarks of a gifted mentor and coach.
Here's what I mean:
Bill is admired for speaking "truth to power." This is a term that gets bandied about a lot these days. It dates back to our Founding Fathers and is in essence how Bill models behavior.
He is unfailingly confident and courageous; honest and honorable. His passion and commitment, and risk-taking—accompanied by tact and diplomacy—are always aimed at doing the right thing—not ever what's expedient or self-serving.
When he sees an idea that he instinctively knows is "off," he pounces, persevering with reasoned comment and—most important, prepared with a clearly superior idea.
Never pompous or pious, Bill offers up his vast knowledge of business, management, life with a dollop of wit—which to this Boston girl means he has a "wicked" sense of humor.
Bill speaks his truths to all manner of powerful people with a rare combination of humility, sensitivity and generosity of spirit.
He always expands the center of attention beyond himself—to agency partners, his internal team, colleagues. In doing so, he elevates the function of counselor—and boosts the recognition—and confidence—of the people around him.
This happens because of his unfailing ability to build trust. His clients—whether in the corporate boardroom or executive suite—seek his opinion because they recognize his commitment to helping them do their genuine best.
Those of us who've worked with him know he's got our backs—he's a leader who helps people realize their potential and gives effusive credit where it's due. He earns trust—yes—but he bestows it, too.
It's in Bill's nature to create extraordinary opportunities. He doesn't spoon feed them. He opens doors and steps aside, and expects you to have the perception and wisdom to walk through and make things happen.
The consummate Connector-in-Chief, he'll say, "How can you not know so and so?! They need to know you!"
Sometimes, Bill has more confidence and faith in us than we do in ourselves.
Bill is an astute observer and a thoughtful listener. He builds 360-degree relationships in the most informal ways by inserting himself with little suggestions. (You might consider this…or that…) He makes you think and your thinking is the better for it.
"Don't speak until you really know what you know—and know the business!" – A classic caution and pointer from Bill. He is a master at this, sizing up the situation. And at just the right moment, delivering dazzling, ah-ha advice.
I recall a project where a management team was devoid of clear strategic direction. Can you imagine such a thing ever happening?
There were lofty expectations from PR, but no clear pathways to success. Bill said, "You know the lay of the land. Figure it out. It won't be the first time someone in PR created a corporate strategy."
His influence is epic—as a talent spotter, career launcher and industry advocate. If he has his way, communicators are at the table on a par with all parties of influence in matters of reputation and perception—especially the lawyers!
And he tirelessly walks the talk, demonstrating by doing how professionals can and should devote times and skills to the betterment of society. You get what you give, and Bill has given untold time—often influencing the course and success of a nonprofit's mission—or someone's life.
Bill is a treasure.
In these times of often raucous, painful discourse and change—in this corporate, geopolitical, cultural, social landscapes—Bill's deeply held values, personal qualities— and humility—are more crucial than ever.
The example he sets extends beyond the professional—to all of life.
Quite a legacy.
Your hometown oracle Oprah once summed it up best—
"A mentor is someone who allows you to see the hope inside yourself."
That's Bill.