Tweet
Follow @ThePageCenter
Page Center announces annual awards to honor integrity in public communication
December 1, 2016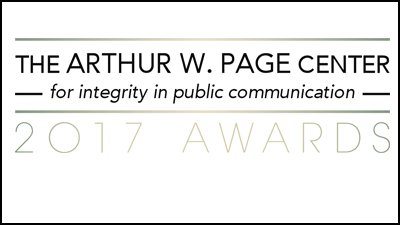 Event page: awards.thepagecenter.org

The Arthur W. Page Center for Integrity in Public Communication is honoring its founder Lawrence G. Foster at an annual event that will recognize those in public relations, journalism and other fields of communications who have demonstrated a commitment to ethics and integrity.
The recipients will be honored at a dinner on Feb. 22 at the Grand Hyatt Hotel in New York City. The Page Center is hosting an event to showcase the importance of ethical decision-making in public communications including public relations and journalism—two areas of communication that made up much of Foster's distinguished career.
Dean of Penn State's College of Communications Marie Hardin said the honors program will recognize individuals who, over the course of their careers, have demonstrated "consistent and fervent commitment" to the highest ethical and professional standards in public communication.
"We will celebrate those who have achieved national stature as trusted and iconic sources of information, thereby facilitating public awareness and understanding and the formation of public trust and permission," she said.
Three awards will be given annually to noted journalists and practitioners in public relations, marketing and advertising. The Center may also recognize iconic individuals posthumously.
The honorees will be announced in advance of the event. A select committee of public relations leaders, journalists and academics, who make up the Page Center advisory board, will choose them.
Bill Nielsen, chairman of the Advisory Board, said: "The work of those who communicate with the public in a free society is a privilege. We must honor the truth, always, and dedicate our efforts to meeting the public's right to know."
The honorees who will be recognized and celebrated at the Center's annual events, will be the subject of case studies conducted by research scholars, according to Denise Bortee, director of the Center and associate professor in the College of Communications. "We expect this work will be very rigorous and give our profession solid examples of the very best practices in public communications," she said.
Foster, who was chief public relations officer at Johnson & Johnson for 33 years, carried a deep conviction and commitment to help further acceptance of the highest ethical standards in public communication, Hardin, said. He believed that public understanding and public permission were vital to success in business and all of society. He was inspired by the work of Arthur W. Page, who served as vice president of public relations for AT&T from 1927 to 1946, and by Robert Wood Johnson II, who wrote "Our Credo" for Johnson & Johnson.
Foster held the view that the highest journalistic standards should apply equally to public relations and to journalism. This conviction led him to create the Page Center at Penn State, his alma mater.
For more information about the honors program, visit awards.thepagecenter.org or email Denise Bortree, center director, at dsb177@psu.edu.