Tweet
Follow @ThePageCenter
Save the Date: The 2018 Page Center Awards
October 26, 2017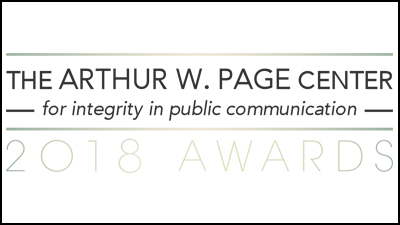 The Arthur W. Page Awards for Integrity in Public Communication
February 21, 2018
Grand Hyatt Hotel
New York City
Event page: awards.thepagecenter.org
The Page Center honors its founder Lawrence G. Foster at an annual event that recognizes those in public relations, journalism and other fields of communications who have demonstrated a commitment to ethics and integrity.
The second class of honorees will be recognized on Feb. 21 at the Grand Hyatt Hotel in New York City. The Page Center hosts the event to showcase the importance of ethical decision-making in public communications, including public relations and journalism—two areas of communication that made up much of Foster's distinguished career.
Three awards are given annually to noted journalists and practitioners in public relations, marketing and advertising. The Center also recognizes iconic individuals posthumously.
The inaugural 2017 class honored Ann Barkelew, founding general manager and senior partner of FleishmanHillard; Dick Martin, author and former executive vice president of public relations of AT&T; and Alan Murray, chief content officer of Time Inc. and president of Fortune magazine
Visit the Center's website and social media in the coming weeks for the announcement of the 2018 honorees and for more details about its annual event.
For more information about the honors program, visit awards.thepagecenter.org or email Jonathan McVerry at jmac@psu.edu