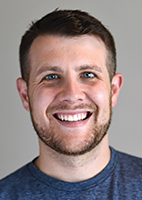 Staff
Trey Miller
Strategic Communications Coordinator
Details
Biography
Trey Miller joined the Bellisario College of Communications Strategic Communications team in December 2014. Miller assists with communications efforts, including stories, photos, videos, social media and more. Prior to joining the Bellisario College, he held assistant director of athletic communications positions at Penn State and Rutgers.
In addition to his duties with strategic communications, Miller also teaches COMM 478: Sports Information in the John Curley Center for Sports Journalism.
Miller graduated from Penn State in 2012 as a Dean's List student. During his time on campus he completed a communications internship with Intercollegiate Athletics and authored a sports story that was voted the best in the nation as part of the annual William Randolph Hearst Foundation's Journalism Awards Program, often referred to as "the Pulitzers of college journalism."
In the News
@JasonBaumPR
I haven't seen AJ play yet. I'll have to tune in this year and root for BC!
Contact
Trey Miller
302C James Building
University Park, PA 16802
814-865-0520
twm5101@psu.edu