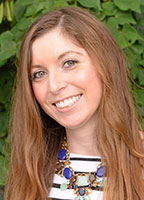 Education
Master's: University of Hartford
Bachelor's: University of Wisconsin
Details
Biography
Jenna Grzeslo received her bachelor's degree in communication arts and political science from the University of Wisconsin. As an undergraduate, she conducted research with the McNair Scholar's Program.
Following the completion of her master's degree in communications from the University of Hartford, she worked as an adjunct instructor teaching courses in mass communications, human communications and media literacy. During that time, Grzeslo also managed a community technology center where she designed and taught free information literacy courses. Due to her value of technology and equal access to information, it is not surprising that her research focuses on the digital divide.
As a Ph.D. student at Penn State, she explores the impact of information and communication technologies (ICTs) on economic and social development. A foodie at heart, Grzeslo enjoys experimenting with new recipes and finding the best restaurants.
Contact