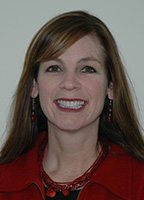 Advising, Staff
Robin Bierly
Academic Adviser
Education
Master of Arts in School Counseling from West Virginia University
Bachelor of Science in Advertising from the Newhouse School of Communications at Syracuse University
Bachelor of Science in Human Resource Management from the Whitman School of Management at Syracuse Univeristy
Details
Biography
I am excited to be part of the awesome Academic Advising Team here in the amazing College of Communications! Even though I did not go to Penn State, I have always been a Nittany Lion at heart! One of my favorite memories growing up in South Williamsport, PA, was listening to Penn State football games in the back of our family's Dodge Aspen station wagon on Saturday afternoons on the way to my older sister's band competitions. Only being an hour away, I was also fortunate enough to be able to come to campus for elementary school field trips, Lady Lion basketball games, and the Pennsylvania Festival of the Arts! Even though I was scared to death driving past Rockview Prison, I loved shopping on College Avenue, eating grilled stickies at the Ye Olde College Diner, and getting pictures taken at the Nittany Liion Schrine!
As a resident adviser in Shaw Hall at Syracuse University, an academic advisor in the College of Business and Economics at West Virginia University, a guidance counselor at Short Pump Middle School in Richmond, VA, and a PTO volunteer for several committees at Corl Street Elementary School here in State College, I have always loved working with students of all ages! Right now, I am also working with a few students of my very own! My 11 year old son, Parker, is now a 6th grader at Park Forest Middle School, and my 10 year old daughter, Ava, is a 5th grader at Corl Street Elementary School! They keep me busy, laughing, and on my toes!
My husband, Stan, and I lived in Richmond, VA, for 10 years and then we moved back to Happy Valley in 2005. Even though we aren't close enough to the beach for my taste (and the summers are not nearly warm enough!), we enjoy living in a such a vibrant college town and experiencing the beautiful change of seasons! We can't imagine raising our kids anywhere else!
Please be sure to come in for a drop-in or a scheduled appointment at least once or twice a semester! We want to see you! We are here to help you with anything from scheduling classes to studying abroad to getting involved in student organizations to anything related to being a successful college student! We especially love to talk about our 3-pronged approach! Ask us about it! See you in 204 Carnegie soon!
Contact
Robin Bierly
204 Carnegie Building
University Park, PA 16802
814-865-1503
rab55@psu.edu