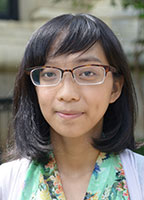 Details
Biography
Tsai-Wei Chen is in her second year pursuing a master's degree in media studies. She earned her bachelor's degree in English with a focus on linguistics from National Taiwan Normal University at Taipei, Taiwan.
Before pursuing her master's degree, shei worked as an English as a second language (ESL) instructor. She also served as a public relations intern at the University Office of Global Programs at Penn State. Since Fall 2014, she has been the teaching assistant for COMM 180 Survey of Electronic Media and Telecommunications.
Her recent research investigates the psychological aspects of communication technology. She is especially interested in how technological affordances in e-commerce context can affect users' emotions, thoughts and behaviors. Fun fact: She often falls asleep in the chair during dental appointments.
Contact