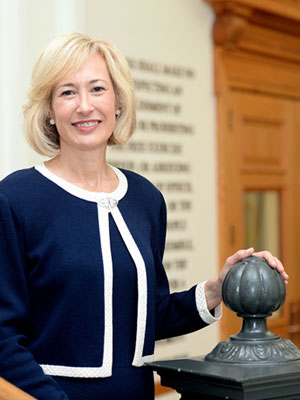 Our programs and people provide a powerful combination to support students.
Our four departments — Advertising/Public Relations; Film-Video and Media Studies; Journalism; and Telecommunications — offer five undergraduate majors. Graduate students may pursue a master's degree in media studies or a Ph.D. program in mass communications, with several distinct areas of emphasis.
Faculty members blend strong academic and professional backgrounds and possess a commitment to excellence in teaching, research and service. Along with our research centers and special programs in the Bellisario College, students benefit from on-campus visits from academics and professionals at the top of their fields for endowed lectures and special programs.
In addition, a team of advisers in the Bellisario College provides information and insights for students who have questions ranging from scheduling to selecting a major.
Donald P. Bellisario College of Communications
A transformational gift from alumnus and Hollywood legend Donald P. Bellisario provides the support necessary to make an outstanding communications program even greater.
At a Glance
$30 million

Endowment from alumnus, Donald P. Bellisario and his wife Vivienne, to support communications students and faculty and to establish the state-of-the-art Donald P. Bellisario Media Center.

"

"extremely productive and student oriented" faculty who provide "exceptional learning experiences " for students

ACEJMC Accreditation Team (2018)

#1

Three Consecutive National Championships, Hearst Journalism Awards Program, 2012-13-14

TOP TEN

Top Journalism Schools - #8

CollegeMagazine.com, 2019

450

450 For-Credit Internships Completed Each Year

"

"this self-proclaimed 'student-centered' College lives up to this promise."

ACEJMC Accreditation Team (2013)

360

360 Study-Abroad Options in 50 Countries

110

110 Endowed Scholarship Funds for Students

Top Ten

Top Ten School for Fashion Journalism, PR, Marketing & More Fashionista, 2012