Tweet
Follow @ThePageCenter
Communications chief invites students to be 'a part of the change'
February 5, 2016 • Jonathan McVerry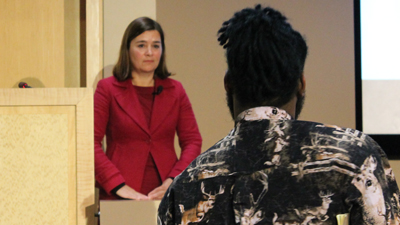 You can watch Stapper's full lecture and other Professional-in-Residence talks here.
Many think of the United Nations as an organization helping developing countries riddled by war or natural disasters. The U.N. Volunteers communications chief wants people to know that the United Nations stretches beyond that serving 193 countries—more than 7 billion people—including the United States.
"We are all affected by issues of world order," Jennifer Stapper told around 150 students in the Freeman Auditorium. "We are all represented by the U.N."
The lecture, held on Feb. 3, was a part of the Arthur W. Page Center Professional-in-Residence speaker series, which invites communication leaders to campus. Stapper, who is based in Bonn, Germany, spent the week in University Park speaking to classes and student groups and meeting with faculty members.
Last year, the United Nations celebrated its 70th birthday. Stapper, who has been in her position since 2011, spoke about her vision for the U.N. brand. She said by its 100th birthday, she sees the world focusing on the positive aspects and good work the U.N. accomplishes.
"I hope by 100, the brand will be settled," she said. "People will know the blue helmet as a sign of safety, and the tents as a sign of shelter and safe haven—all positive images."
World leaders did not consider the importance of brand when they started the U.N. shortly after World War II, she said. "They had other things to worry about."
It did not have the branding strategies that are vital in today's world of infinite messages coming from all directions. Over 70 years, this may have caused the public to associate the U.N. with earthquakes, poverty and famine. And while its volunteers do assist in these areas, Stapper and her team are driving the focus toward the power of volunteerism—both globally and locally.
Ending her talk, Stapper encouraged the students, many of them communications majors, to get involved and stay up-to-date on U.N. activities.
"The ride is fulfilling, but it can get bumpy. It's important that we all work together to come back to a shared path to happiness," Stapper said. "There are a lot of great organizations out there. I invite all of you to become a part of the change."
Before joining the U.N., Stapper headed strategic communications and stakeholder relations at Fairtrade International. She also worked for a variety of non-governmental organizations in Brussels, Belgium and Washington D.C. in fundraising and public relations. Stapper has a master's degree in international relations from the University of Geneva, and a bachelor of arts from the University of Virginia in social and political thought.
Stapper was the seventh professional to visit campus as a Page Center professional-in-residence. The Center hosts a professional at University Park twice a year. The series is made possible by a generous donation from the Robert Wood Johnson Foundation.