Digital and Social Media Ethics
Given the high rate of social media use by the public, organizations are compelled to engage with key audiences through these outlets. Social media engagement requires organizations to actively participate with public groups, and this highly-interactive exchange raises a new set of ethical concerns for communicators.
In this rapidly changing communications environment, the long-term implications of social media are uncertain and much research is needed to understand its impact on audiences and organizations. The Arthur W. Page Center has an ongoing initiative to help address questions of social media ethics.
Social Media Project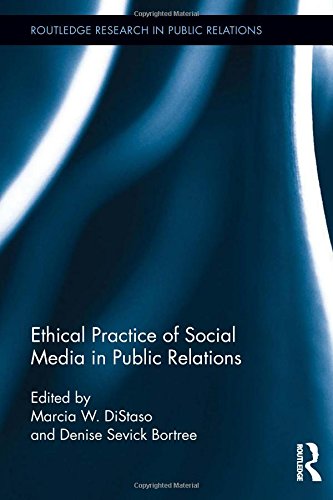 In 2012-2013 the Center funded a research and case study book that featured the best of social media ethics. The book, edited by Marcia DiStaso and Denise Bortree, featured a foreword by Brian Solis. Below are the book chapters and authors.
Title: Ethical Practice of Social Media in Public Relations
Foreword: Social Media is Lost without a Social Compass
Brian Solis
Preface
Marcia DiStaso and Denise Bortree
Chapter 1: Openness and Disclosure in Social Media Efforts: A Frank Discussion with Fortune 500 and Philanthropy 400 Communication Leaders
Richard D. Waters
Chapter 2: Considerations Regarding Ghost Blogging and Ghost Commenting
Tiffany Derville Gallicano, Thomas H. Bivens, and Yoon Y. Cho
Chapter 3: Bank of America's Facebook Engagement Challenges its Claims of "High Ethical Standards"
Marcia W. DiStaso
Chapter 4: Natural or Not? A Case Study of Kashi's Viral Photo Crisis on Facebook
Hillary Fussell Sisco
Chapter 5: Private Conversations on Public Forums: How Organizations are Strategically Monitoring Conversations and Engaging Stakeholders on Social Media Sites
Tina McCorkindale
Chapter 6: To Tweet or Not to Tweet: An Analysis of Ethical Guidelines for the Social Media Engagement of Nonprofit Organizations
Marcus Messner
Chapter 7: Social Media as a CSR Communication Channel: The Current State of Practice
Kati Tusinski Berg and Kim Bartel Sheehan
Chapter 8: Corporate Social Responsibility in Environmental Crisis: A Case Study of BP's YouTube Response to the Deepwater Horizon Crisis
Denise Sevick Bortree
Chapter 9: Nestle and Greenpeace: The Battle in Social Media for Ethical Palm Oil Sourcing
W. Timothy Coombs
Chapter 10: Coca-Cola, Community, Diversity, and Cosmopolitanism: How Public Relations Builds Global Trust and Brand Relevance with Social Media
Nneka Logan and Natalie T.J. Tindall
Chapter 11: The Dialogic Potential of Social Media: Assessing Ethical Reasoning of Companies' Public Relations on Facebook and Twitter
Angela M. Lee, Homero Gill De Zuniga, Renita Coleman, and Thomas J. Johnson
Chapter 12: Journalists and Corporate Blogs: Identifying Markers of Credibility
Kirsten A. Johnson and Tamara L. Gillis
Chapter 13: Authority Crisis Communication vs. Discussion Forums: Swine Flu
Paivi M Tirkkonen and Vilma Luoma-Aho
Chapter 14: Government Gone Wild: Ethics, Reputation, and Social Media
Kaye D. Sweetser
Chapter 15: Understanding the Ethical and Research Implications of Social Media
Shannon A. Bowen and Don W. Stacks
If you are interested in purchasing a copy of this book, it can be found on Amazon.