Tweet
Follow @ThePageCenter
'PR Journal' special issue focuses on Page Center research on international CSR
May 9, 2018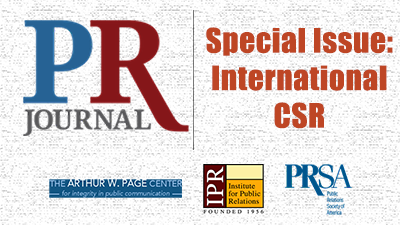 The May Public Relations Journal is a special issue presented by the Arthur W. Page Center that focuses on international corporate social responsibility (CSR). Fourteen scholars contributed Page-funded research to the project.
In the May issue, Page scholars delve into a number of topics, including the challenges of implementing global CSR strategies, the impact of CSR, building public trust internationally, responding to CSR skepticism, economic perspectives, among others.
PR Journal is a free, web-based, open-access academic journal. The Institute for Public Relations and Public Relations Society of America publish it quarterly to provide current communications-based research to a wide audience.
Since its founding in 2004, the Page Center has become an international leader in research on ethics and integrity in public communication. The Center has funded nearly 250 scholars and awarded more than $800,000 in research funding.
You can read the Center's special issue on the IPR website.
Special guest editor's introduction
International CSR: Challenges of Implementing Corporate Responsibility Programs Across the Globe
Denise Bortree, the Pennsylvania State University, director of the Arthur W. Page Center, and Michel Haigh, Texas State University

Examining the Impact of Value Orientations on CSR Evaluations and Expectations Among U.S. and Chinese Publics
Anli Xiao, the Pennsylvania State University and Holly Overton, University of South Carolina

Creating Shared Value, Public Trust, Supportive Behavior, and Communication Preferences: A Comparison Study in the United States and China
Chun-Ju Flora Hung-Baesecke, Massey University; Yi-Ru Regina Chen, Hong Kong Baptist University; Don Stacks, University of Miami; W. Timothy Coombs, Texas A&M University; and Ben Boyd, Edelman Public Relations

Skepticism Toward CSR: A Cross-Cultural Perspective
Hyejoon Rim, University of Minnesota

Communication Practitioners' Views on the Economic and Ethical Dimensions of Corporate Social Responsibility: A Case of Slovenia
Neva Štumberger, Purdue University and Krishnamurthy Sriramesh, Purdue University

Corporate Perspectives on the Role of Global Public Relations in Public Diplomacy
Candace L. White, University of Tennessee and Kathy R. Fitzpatrick, American University