Tweet
Follow @ThePageCenter
Page Center to host corporate communications veterans at 'PR Roundtable'
September 26, 2018 • Jonathan McVerry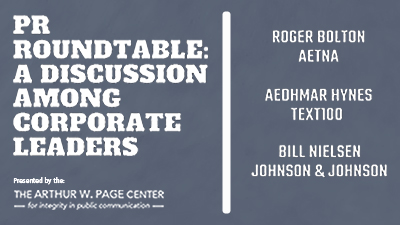 The Arthur W. Page Center is hosting a discussion among four current and former executives that have a combined 150 years of experience in public communications. From personal successes to global challenges, the industry leaders will share stories geared toward the importance of ethical and well-informed decision-making.
"PR Roundtable: A Discussion Among Corporate Leaders" will feature panelists who represent a range of industries from pharmaceutical to healthcare to marketing to technology. They will share their insights with the Penn State community at 6 p.m. on Oct. 15 at the Freeman Auditorium in the HUB-Robeson Center.
Joining the roundtable are Roger Bolton, president of the Arthur W. Page Society and former senior vice president of communications at Aetna; Aedhmar Hynes, former CEO of Text100 and chair of the Page Society; Jon Iwata, executive-in-residence at Yale School of Management and former IBM chief brand officer; and Bill Nielsen, chair of the Page Center and former vice president of public affairs at Johnson & Johnson. Page Center director and associate professor of advertising/public relations Denise Bortree will moderate the discussion.
"When you have minds of this caliber in a room sharing insights and expertise, you know it's going to be a special night," Bortree said. "Roger, Aedhmar, Jon and Bill are excited to spark a dialogue that will inspire students—Not just to be successful communicators but to be ethical communicators too."
The Page Center, a research center within Penn State's Bellisario College of Communications, is an international leader in research on ethics and integrity in public communication. It has funded more than 250 scholars and awarded more than $800,000 in research funding. The speakers are all members of the Center's advisory board.
Roger Bolton
Roger Bolton is the president of the Arthur W. Page Society, an association for senior corporate communications executives. Previously, he served as senior vice president of communications at Aetna, a multi-billion-dollar health-care provider. There he was responsible for all internal and external communications, advertising, brand management and corporate public involvement. Prior to his business career, Bolton served as assistant secretary of the Treasury for public affairs under President George H.W. Bush, assistant U.S. trade representative for public affairs in the Executive Office of the President under President Ronald Reagan, and special assistant to President Reagan in the White House. He has been named one of the Top 100 Thought Leaders in Trustworthy Business Behavior by Trust Across America.
Aedhmar Hynes
Aedhmar Hynes was recently the CEO of Text100, a global marketing communications agency that boasts a diverse list of clients, including IBM, Johnson & Johnson, American Express and AirBnB. She has become a recognized voice in global leadership within public relations. For decades, she has been described as a "natural disrupter" and an agent of change within the industry. Hynes graduated from The National University of Ireland—Galway and is currently a member of its foundation board. She is a member of Page Society board of trustees and its current chair. Hynes received the Global Technology Award for Communications and was named one of the top 50 most powerful people by PRWeek the past three years. She received the Page Society Distinguished Service Award, the Plank Center Milestones in Mentoring Agency Award, and was named 2018 Global Professional of the Year.
Jon Iwata
Jon Iwata is Executive in Residence at the Yale School of Management, an appointment he received upon his retirement from IBM in 2018. He led IBM's global marketing, communications and corporate citizenship organization for nearly a decade. He was most recently IBM Senior Vice President and Chief Brand Officer. Jon has reported to three IBM CEOs during two decades of significant transformation of the information technology industry, global business and geopolitics. In addition to his fellowship at Yale, Jon is a trustee of Cooper Hewitt, Smithsonian Design Museum, and a director of the Ladies Professional Golf Association. He is an inductee of the Marketing Hall of Fame, the CMO Club Hall of Fame and the Page Society Hall of Fame. He was named a Brand Genius by AdWeek in 2017.
Bill Nielsen
Bill Nielsen is a management communications consultant and former corporate vice president of public affairs at Johnson & Johnson. He is the chair of the Page Center's advisory board and serves on the Boards of Trustees of The Robert Wood Johnson Foundation and The Josephson Institute of Ethics. Nielsen retired as corporate vice president of public affairs at Johnson & Johnson in 2004, after 17 years with the company. He served two terms as president of the Arthur W. Page Society and was inducted into the organization's Hall of Fame in September 2003. He also chaired the board of the Institute for Public Relations and continues as an emeritus director. Nielsen served on the board of directors of the Global Public Affairs Institute.