Tweet
Follow @ThePageCenter
Q&A with advisory board member Ellyn Fisher
November 28, 2017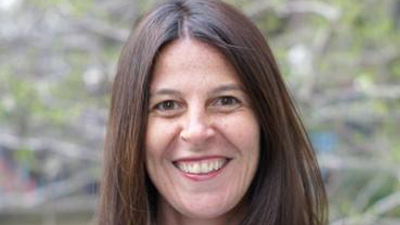 By Sarah Vlazny, Page Center intern
Ellyn Fisher is the senior vice president of public relations and social media for the AdCouncil. A Penn State alumna, she joined the Page Center advisory board last fall.
Fisher brings experience and expertise in public service communications to the board having worked on groundbreaking campaigns such as Smokey Bear and "Love Has No Labels." Her role at the AdCouncil is to promote the organization and its public service campaigns to the advertising, non-profit and media communities, as well as the general public.
Before joining the AdCouncil in 2001, Fisher worked at an advertising agency serving clients such as Western Union, Reuters and Lending Tree. She has also worked at USA Networks, and at a division of Ogilvy & Mather that promotes celebrity talent.
In a Q&A interview with the Page Center, Fisher discussed the current state of communications and some of the parallels between public service and corporate communications. She also shared some of her personal experience in the industry, and offers insight as why one of her favorite projects, the "Love Has No Labels" campaign, has been so successful.

What made you accept the position on the Page Center advisory board?
Now more than ever, it's important to talk about integrity in communications and to talk about how we can work together to ensure that we're being consistent in doing all that we can to keep our industry on track. Especially in the world of "fake news," and where everything is politicized, it is especially important to have transparency in every aspect of our work. Credibility is everything.
How do you think today's climate influences how communications professionals conduct themselves, and what are some of the challenges they face?
It's one of the most challenging environments since I started working in public relations. With social media, everyone has a voice and issues can be escalated very quickly. That's why I think it's especially important to be transparent in how we communicate, and to check each other as well. We have to keep each other honest in not only how we communicate, but how much we communicate. It's not just about disclosing as much information as you can, it's about being responsive and not looking for the headline you want, but looking for the truth in the story.
How has integrity played a role in your career?
The world of social marketing—or marketing for social causes—is different from corporate marketing, but the same rules apply. When we're talking about critical social issues we need to be honest, open and clear. Edelman's trust barometer says there is just as must distrust in non-profits as there is in corporate and politics. There is a lot of skepticism in the non-profit space. Therefore, we need to be even more communicative and transparent than we ever have been before. These are really critical social issues and if we lose credibility we could lose funding or supporters. When you're dealing with limited resources that can be devastating.
What are some of the ways public service communications differs from corporate communications, and do you think it's harder to maintain integrity in the corporate sector than it is in the public sector?
There are a lot of parallels between the sectors. Every CEO should be your chief integrity officer, and those values should be echoed throughout the company, regardless of where you are. It's just as important that we have the credibility and the integrity in the nonprofit sector that we do in the corporate sector. We need to call out coworkers and partners if we're not seeing the utmost integrity. It's kind of like "if you see something, say something," to quote a PSA.
Can you talk about the "Love Has No Labels" campaign? In particular, what were the challenges and how did you handle any backlash you might have gotten?
Working on the "Love Has No labels" campaign has been one of the most incredible experiences of my career. We launched the campaign to celebrate diversity and promote inclusion throughout the country. In seconds it went viral and was embraced, and it continues to be loved, cherished and shared. Even in some of the toughest times, organically people are looking for that inspiration and positivity. The brilliance of the campaign is that it doesn't point a finger at you and say "you have bias," and condemn you. Instead it lets you get there through your own self-discovery in a very positive and empowering way.
It has been challenging in terms of PR and social strategy because we've taken great care to ensure that it isn't politicized. Our message is simple and powerful—we are all human and we should embrace each other for our differences. It's been a wonderful experience and we're looking forward to what's next.
From a PR standpoint, I've learned a lot from the campaign as well. It was our first truly digital launch, debuting on Upworthy's Facebook page after Valentine's Day in 2015. It quickly went viral, and we had over 40 million views in two days. At first we thought that we had to tie the launch into an event or another news hook, but it turned out just to be a beautiful piece of content that we launched at exactly the right moment. The country was incredibly divisive—and now it's even more divisive—and people are embracing this content because it's positive and empowering. We've also partnered with the NFL, WWE and Facebook to create more content that has continued to make people think differently about diversity and inclusion.
How do you think you've been successful in keeping it from being politicized? What are some of the methods you've used to ensure that it is just a positive campaign?
We did our homework in advance and prepared for any potential backlash by being strategic and developing talking points and crisis Q&As. But I really think the creative execution—working with our ad agency R/GA and our social media agency Jack Morton Worldwide—was really brilliant, hard hitting and beautiful. Every piece of content has been communicated in a way that you really can't argue with. A great example is our second piece of content where we had John Cena as the deliverer of the message. It was incredibly powerful because he's not someone you would expect to share that message. He's a classic "tough guy" and he brought a whole new audience to the campaign.
Do you have any mentors or people you looked to as role models as you progressed in your career?
I've had many mentors over the years. I've worked with my current boss for over 16 years, so she's definitely been a role model to me. Additionally, a lot of people I've met at Penn State through the Bellisario College of Communications, such as professors and others I've met through the boards that I've served on have been great influences. I also admire and look up to everyone on the board of the Page Center. They're all reputable and distinguished and conduct themselves with the highest integrity.
What are your favorite initiatives the Page Center conducts and what are some directions you'd like to help the Center go in?
We want to work to continue to engage the entire industry in integrity in communications and the principles of the Center. I love that the board is expanding to include journalists, because I think public communication is a two-way street. There is a lot we can do with journalists to ensure that we are maintaining the highest integrity.
What advice would you give to young PR professionals who want to maintain integrity in the difficult climate we're in?
First of all, students should become familiar with the Page Center and the Page Principles. Second of all—it's kind of a gut check. If you're feeling like something isn't quite right or you're feeling uneasy, have the conversation. Decisions aren't always black and white; there's a lot of gray area in this field. If you're questioning something, talk about it. Talk about it to your peers and to your supervisors. A lot of times people have that pit in their stomach where they're not sure about something, yet they don't speak up. I think it's really important to be able to have that dialogue.