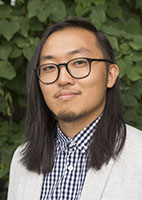 Student-PHD
Andrew Gambino
Education
Master's: Western Michigan
Bachelor's: Western Michigan
Details
Biography
Andrew Gambino is a Ph.D. candidate and University Fellow at Penn State. His research is situated in the fields of communication and technology, human-computer interaction, and computer-mediated communication. Specifically, Andrew is interested in the relationships people form with their devices. His aim is to explore how these relationships are built and maintained, as well as how they mimic and differ from our human-to-human relationships. Additionally, he hopes this research can be used to shed light on complex and difficult to study areas of human relationships.
Secondarily, Gambino is interested in the study of artificial intelligence and the human-machine relationship. In terms of AI, Gambino is particularly interested in examining the functionality of neural networks, and what we can learn about human cognition from the performance and perception of these systems. It is Gambino's hope that we can gain a better understanding of cognition, and what exactly makes us human, from a thorough examination of the strengths and faults in these emerging AI systems. Most of Gambino's research is experimental social science, however he also conducts research using exploratory and innovative methods, including interviews and
machine learning. Currently, he is involved in a National Science Foundation-funded project on internet privacy and security, as well as research projects that range from the role and effects of agency in the human-machine relationship to how interactions with or through technology may constitute cognition and alter human agency. Other projects include an in-depth study of the bandwagon effect and creativity.
He has presented his research, receiving awards and honors, at venues including the International Communication Association, SIGCHI: Human Factors in Computer Systems, The Human Computer Interaction Consortium, The Association for Education in Journalism and Mass Communication, and The University Film and Video Association. Gambino also currently serves as editorial assistant for the Journal of Computer-Mediated Communication and the membership chair for the Communication Technology division of AEJMC.
In his spare time, Gambino enjoys reading and writing fiction, poetry and all things sports. He is always happy to hear from friends, fellow researchers or strangers [especially cat people]. If you would like to discuss research, "the Ph.D. life," sports, media or pretty much anything, he can be reached by email (aug268@psu.edu).
Contact