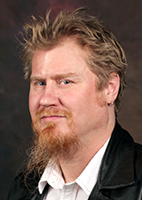 Telecommunications
Benjamin W. Cramer
Associate Teaching Professor
Education
Ph.D.: Penn State
Master's: Penn State
Bachelor's: Syracuse University
Details
Biography
Cramer joined the Department of Telecommunications as a senior lecturer in 2014. He previously worked as a post-doctoral fellow for the Insitute for Information Policy at Penn State and served as managing editor of the Journal of Information Policy.
His research focuses on media law and telecommunications policy, with concentrations in government transparency, intellectual property and the political economy of communications. Environmental law is a significant outside interest. He teaches coureses in media law, telecommunications regulation and, on occasion, environmental policy.
He previously served as a visiting professor of telecommunications and public policy at Central European University in Budapest. He has published several peer-reviewed journal articles, presented more than a dozen conference papers and written an academic press book.
Cramer has nearly a decade of experience as a curriculum designer and as a classroom instructor in the information technology field, and is the author/editor of two general interest books about outdoor recreation.
Contact
Benjamin W. Cramer
314C Willard Building
University Park, PA 16802
814-867-2497
bwc124@psu.edu