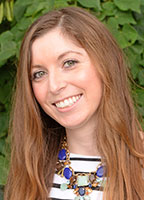 Education
Master's: University of Hartford
Bachelor's: University of Wisconsin
Details
Biography
Jenna Grzeslo earned her bachelor's degree in communication arts and political science from the University of Wisconsin. Following the completion of her master's degree in communications from the University of Hartford, she managed a community technology center where she designed and taught free information literacy courses in an urban and predominantly low-income community.
Currently, Grzeslo is a Ph.D. candidate (ABD) at Penn State and a doctoral fellow at the Institute for Information Policy. She also serves as the managing editor for the Journal of Information Policy.
Grzeslo was a 2016 PTC Young Scholar Award Recipient. In 2017, she was awarded Penn State's International Travel Research Award to fund her dissertation research on mobile payment usage by youth entrepreneurs in Kenya.
Websites
Contact