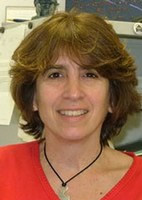 Journalism
Pamela Monk
Assistant Teaching Professor
Education
Master's: University of Illinois, CC
Bachelor's: Hunter College, CUNY
Details
Biography
Pamela Monk joined the faculty at Penn State in the fall of 1999 after 25 years in public education teaching writing and general science. In 1983, she began her continuing career as a freelance writer and playwright.
At Penn State, she teaches courses in both the journalism departments. Her work has appeared in The New York Times, Newsday and The Philadelphia Inquirer, as well as in local publications in State College and in Ithaca, N.Y., where she lived before moving to State College.
She serves as faculty adviser to Phroth, the Penn State humor magazine, Valley Magazine and PSNtv, the student television network. In addition, Monk is a juried artist for the Pennsylvania Council on the Arts. In this capacity she has conducted playwriting residencies and freelance writing workshops in a variety of Pennsylvania public schools.
She from 2004-2010, she wrote "The Rules of Family, Advice from Donna Corleone" -- which appeared monthly on the Web (happywomanmagazine.com) and in print (Voices of Central PA) Her plays have been produced in both New York and Pennsylvania. She is also the creator of Pamelapolis Productions, an independent producing company. Her service to the State College community includes work on arts boards, including Galaxy Arts in Education, the State College Community Theatre and, most recently, The State Theatre. She teaches non fiction courses regularly for CALL -- the Community Academy for Lifelong Learning.
Current projects include producing and performing in the personal narrative storytelling series Muriel's Repair and the annual satire Forbidden Valley
Websites
In the News
Contact
Pamela Monk
111 Carnegie Building
University Park, PA 16802
814-865-1006
pxm33@psu.edu