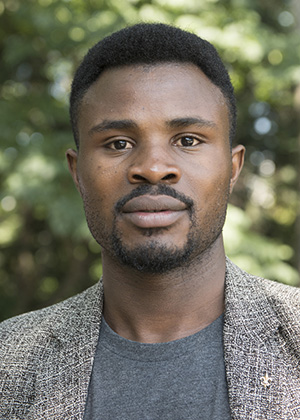 Education
Bachelor's: University of Buea, Cameroon
Master's: Michigan State Univeristy
Details
Biography
Pechulano Ali earned his bachelor's degree in journalism and mass communication from the University of Buea, Cameroon, receiving the Cameroon Telecommunications Award as outstanding graduate in the major. While a student he served as a producer and host of culture and politics shows for local radio stations and served as a research assistant to the head of department.
After graduation, he freelanced for local and international news outlets. Through The MasterCard Foundation Fellowship, Pechulano obtained a master's degree in journalism from Michigan State University's School of Journalism. His thesis discussed the impacts of governmental controls of information on journalism practice in Cameroon. At MSU, he worked for the Knight Center for Environmental Journalism and the Global Center for Food Systems Innovation as a podcast producer and host, talking to researchers, scientists and innovators who are seeking to end world hunger.
As a top graduate student in journalism he was inducted into Kappa Tau Alpha, and Phi Beta Delta for achievement in International Education. At Penn State, Pechulano intends to focus his research around issues of press freedom and access to information, and media and international affairs (development and public diplomacy).
In his free time, he sings Christian acapella music and writes poems. Fun fact: His name (Pechulano) means I don't care what people say, let them talk.
Contact