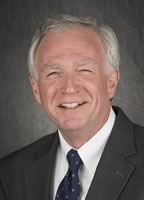 Journalism
Russ Eshleman
Associate Teaching Professor, Head of the Department of Journalism
Expertise
Public Affairs Journalism
Pennsylvania Government and Politics
Education
Bachelor's: West Virginia University
Details
Biography
Russell Eshleman teaches basic reporting methods, opinion writing, news media ethics and in-depth reporting. Prior to his arrival at Penn State, he spent 15 years with The Philadelphia Inquirer, where he was Harrisburg bureau chief and state political writer.
In 1992, he won a distinguished writing award from the American Society of Newspaper Editors. Two articles honored by that award were reproduced in a 2006 book titled "America's Best Newspaper Writing: A Collection of ASNE Prize Winners." After leaving the Inquirer, Eshleman wrote a column on Pennsylvania government and politics that appeared in a handful of newspapers across the state. In 2007, his column was awarded a first place in the Pennsylvania Newspaper Association's annual Keystone Press Awards for newspapers.
He has been a frequent commentator on Pennsylvania government and politics for radio and television public affairs programs. Eshleman is a graduate of West Virginia University, has worked as managing editor of capitolwire.com and as an editor and reporter at the Lancaster (Pa.) New Era and Gettysburg (Pa.) Times.
In the News
Contact
Russ Eshleman
20 Carnegie Building
University Park, PA 16802
814-865-0935
ree4@psu.edu