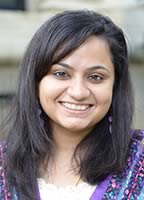 Education
M.A in Psychology, Chatham University, Pittsburgh, PA

M.A. in Media Production, University Of Central England, Birmingham, U.K
Details
Biography
Sushma Kumble is an ABD whose research interests are broadly situated in the areas of strategic communications and psychology. Specifically, she is interested in studying the interactions of message design, cultural cognition and their impact on attitudes (both implicit and explicit) and behavior in the context of science and health communication. Her dissertation (funded by the Don Davis Program in Ethical Leadership) investigates the use of narratives in strategic communication campaigns to aid de-stigmatization of mental illness.
Kumble has co-authored journal articles in the Journal of Promotional Management and the Journal of Interactive Advertising. Other collaborative research projects are under review. She is the current graduate student ambassador for the Communicating Science, Health, Environment, and Risk (CommSHER) Division at the Association for Education in Journalism and Mass Communication (AEJMC).
Kumble has taught several undergraduate classes including research methods, strategic communication in a global environment, research and analytics, and international communication in both in-resident and online settings. She was also a teaching assistant for a large introductory media effects course. She was the recipient of the Dchoi teaching award at College of Communication, Penn State for outstanding teaching by a graduate student.
Kumble earned her bachelor's degree in communication, psychology, and English from Bangalore University, India, and her first master's in media production from the University of Central England, Birmingham. She earned her second master's in psychology from Chatham University, Pittsburgh. She worked as a research assistant at the Health and Human Performance Lab, Carnegie Mellon University.
She brings with her a range of diverse international experiences. Prior to moving to the United States, Kumble worked for a PR agency (Weber Shandwick in Dubai) and was also part of a start-up advertising agency. She has also been a part of various short documentary films in various capacities and has interned at various media organizations in India and England during her undergraduate and graduate years. In her free time she likes to cook, travel and photograph landscapes and wildlife.
Contact